Resource management for the future
Resources are limited even in the richest environment. To maintain marine resources and utilize them in a sustainable manner, we have been carrying out activities to limit catches and increase stock level of marine resources.
Multiple measures against overfishing
In our resource management, three main groups of measures are taken. The first group is intended to limit the size and number of fishing boats (input control). The second group is aimed at preventing the catch of young fish by measures including widening the mesh of nets (technical control). The third is to set maximum limits on catches for the purpose of restricting fishing activities (output control). These measures are taken in combination to protect fishery resources.
| Correlation Diagram of three resource control approaches |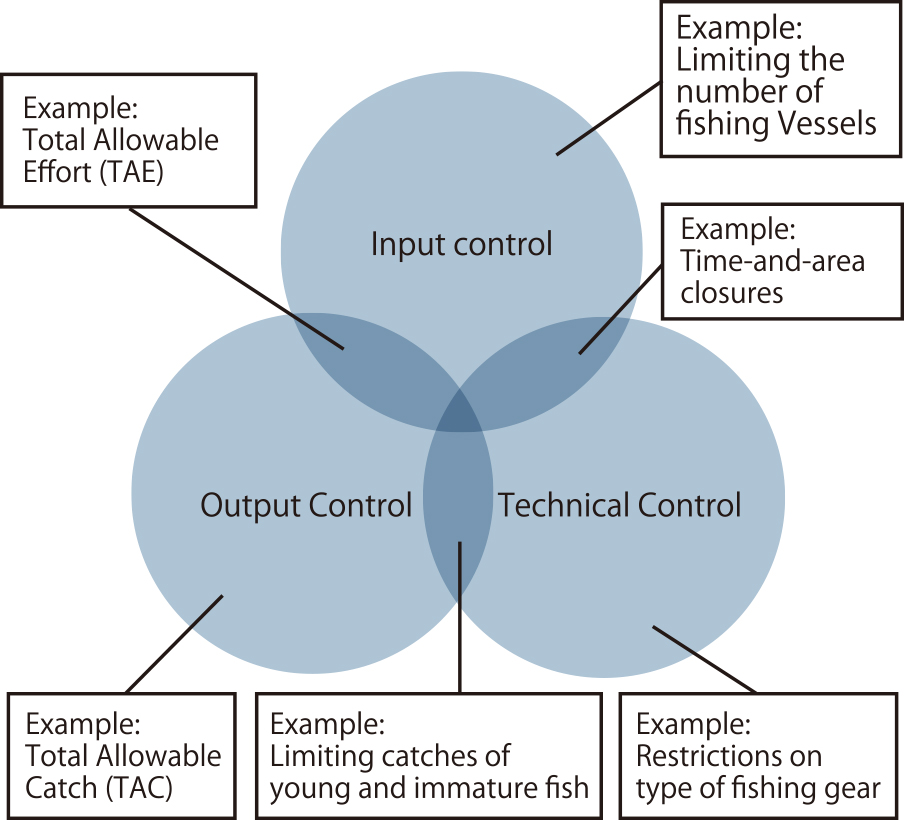 ---
Japanese-invented eco label system
Marine Eco-Label Japan (MEL) has been operated in Japan since 2007 to certify the fisheries and aquaculture managed in a sustainable manner. The certified products are distributed and sold with the MEL-label. MEL aims 1) to promote the sustainable management of marine resources, 2) to increase the number of stakeholders involved in sustainable measures, and 3) to continue Japanese fishing industries and seafood culture by providing MEL labeled products for customers'choice.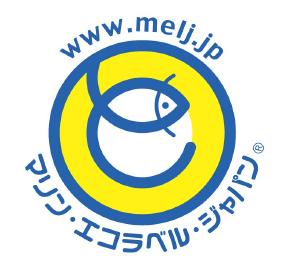 ---
How marine products are processed
Japanese seafood processing plants nationwide offer high-quality products by their infallible quality management. For example, factories around Hachinohe port, Hachinohe, Aomori Prefecture, which is well-known across the country for its squid and mackerel landing, are furnished with an integrated process from procurement to processing and seasoning to packaging, and conduct the inspection of unfinished and finished products in order to offer safe products.
Efforts to increase stock level of marine resources
For the purpose of preserving rich fishery and enabling the sustainable use of resources, various efforts are made, including the release of fry into rivers and the sea, together with the preservation of seaweed beds and other environments for growing fish.
Young scallops released into the sea in Hokkaido
The seabed ranching and dredge cultivation ("Jimaki" fishery) is undertaken in Hokkaido. After one year cultivation, scallops are released into the sea and grown on the seabed for four years. In this cultivation, the fishing area is divided into four sections and one year old scallops are released into one section each year and caught in 4 years, so that harvest from one section can be ensured every year. This system was given an MSC certificate in May 2013 for its full resource management – "Catch-and-grow fisheries"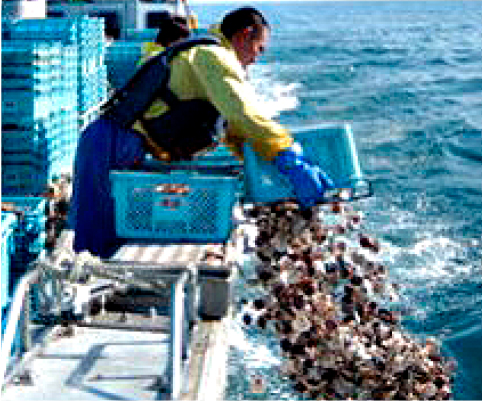 Releasing Young Scallops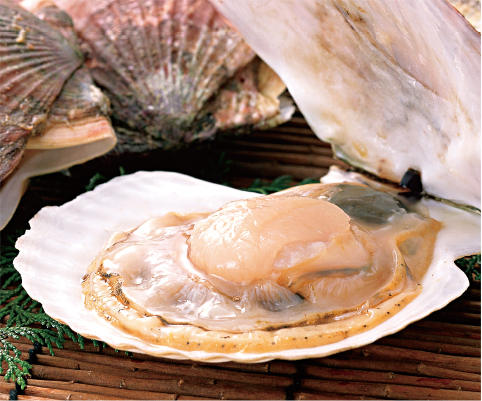 Large Scallops
---