Excellent seafood of Japan
Processed seafood products are delicious and convenient
Japanese have long enjoyed eating a wide variety of processed seafood products. With long-term preservation property,processed seafood is used for many receipts for their taste and convenience. Here are some typical products:
Not only long-term preservation property, other attractive features
Processed seafood products contain marine products as the main raw material. Their greatest advantage is that they can improve the preservative property of marine products, which are otherwise difficult to preserve for a long period. They improve the taste of materials themselves, as well as their palatability when seasoning is added. In addition, the fact that they can be used for cooking directly without being prepared has a great appeal for busy modern people.
Secrets of safety and deliciousness
Most of seafood processing plants are located near the sea. For this reason, they can produce high-quality products by using fresh raw materials.
How marine products are processed
Japanese seafood processing plants nationwide offer high-quality products by their infallible quality management. For example, factories around Hachinohe port, Hachinohe, Aomori Prefecture, which is well-known across the country for its squid and mackerel landing, are furnished with an integrated process from procurement to processing and seasoning to packaging, and conduct the inspection of unfinished and finished products in order to offer safe products.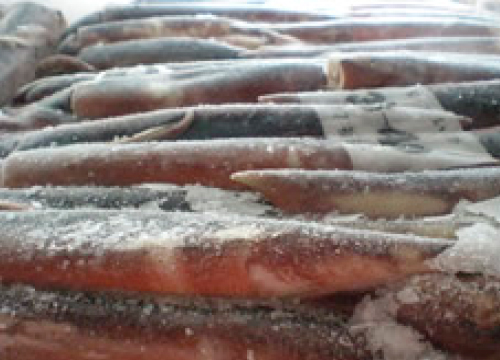 Inspection and freezing
Squid fresh from purchase is frozen instantly after inspection and preserved with its freshness retained.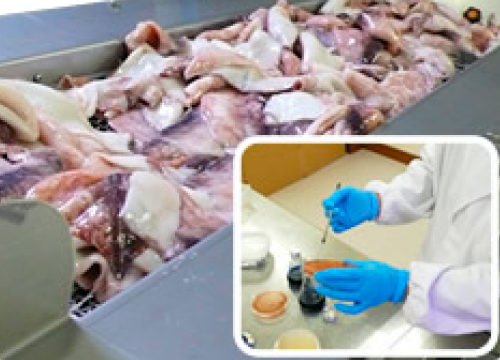 Sampling inspection
Conducting periodic sampling inspections, e.g. bacteria inspection, of unfinished products on the processing line.
---